3

Visualization
3.1

Overview

Curators: Libby Mohr1, Matthew Brousil2, Jessica Burnett3, Kelly Heilman4, Hfassan Moustahfid5, Leah Johnson6, David LeBauer4, Rob Kooper7, Cee Nell8, Josh Cullen9, Jake Zwart8, Jody Peters10, Quinn Thomas6, Mike Dietze10

1Environmental Defense Fund, 2Washington State University, 3 NASA, 4University of Arizona, 5NOAA, 6Virginia Tech, 7National Center for Supercomputing Applications, 8USGS, 9Florida State University, 10University of Notre Dame, 11Boston University

As the old adage goes
"A picture is worth a thousand words."
At the end of any data gathering endeavor, one is faced with the task of dissemination. This step determines how the end-user consumes the information buried within the data. Often these data sets are complex and require creative strategies to communicate information accurately and effectively. Science, policy and planning rely on reliable and unbiased communications. Data visualizations and graphics are a powerful means to communicate. They have great impact on how we perceive environmental problems, their solutions, and if we consider policies legitimate. Over the last two decades, more and more studies have demonstrated that visualization plays a role in data-communication, influences decision making, public perception, public participation, and knowledge cocreation (Metze 2020). A famous example of a great data visualization is Charles Joseph Minard's diagram of Napoleon's march to Moscow, which clearly shows the disastrous number of lives lost in this military campaign. Such an image readily conveys a message "at a glance" that sticks to memory and is difficult to forget. Another example of influential visualizations is the diagram of the 'Burning Embers' from the IPCC report in 2001 (updated in 2009; Figure 1). This diagram visualizes the risks coming from the heating up of the earth. Studies show how these embers have been adapted and contested over time (Wardekker & Lorenz 2019).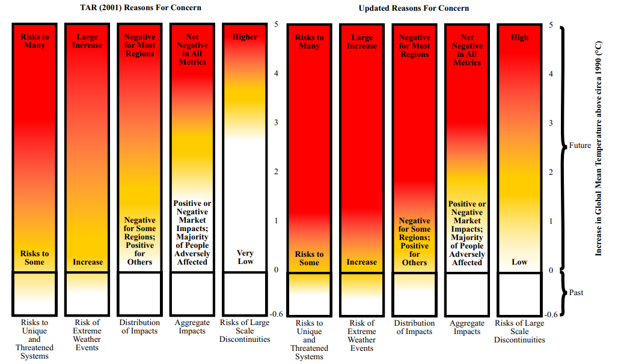 Data visualization has a long history in scientific communication. Simple forms include pie charts, line graphs and more complex network diagrams. Newer techniques use larger datasets and allow users to interact with data to create their own visualizations "on demand". For example, the large dataset that pertains to COVID-19 and its impact on various populations across the globe clearly demonstrates the impact of data visualization on science on policy (Johns Hopkins COVID-19 Dashboard).
Data visualization requires an appreciation for how to convey relationships, categories, and magnitude through the creative use of lines, colors, symbols, position and size. Data visuals help tell a story, starting with a compelling problem or question, using data to provide perspective, and giving the reader some insight or solution. Yet creators must respect the limits in datasets. For example, maps of climate change show bands of color with projected changes in temperature or precipitation, but they are limited by the scarcity of weather observation stations across the developing world (see figure SPM.1 in the Summary for Policymakers of the IPCC's Special Report on Global Warming of 1.5℃).
To inform policy, data visualization is beginning to enrich our understanding of the challenges facing society. Evidence-based illustrations, or infographics, help convey complex policy issues and the potential trade-offs in greater depth than long reports or other media (Mclnerny et al. 2014). Finally, when subject matter is intangible (e.g., due to scale, complexity, or abstraction), visualizations have a fundamental role in exploring information and generating understanding. In addition to an open scientific infrastructure, visualization and graphics should be among the main priorities for developing modern science and science policy.
The following Visualiztion Task View first provides guiding principles for creating visualizations and applications with static or interactive features, then provides examples and tools to create static, animated, interactive, and spatial visuals as well as resources for visualizing uncertainty.
3.4

Tables
3.4.1

Table 1 - End-Users

Table 1: Considerations for end-users, life expectancy and sustainability of the app, interface outputs, communicating to end-users and feedback, and app maintenance and updates.
| Consideration | Description | Recommendations | Benefits | Consequence of Ignoring |
| --- | --- | --- | --- | --- |
| End-users | Who is my end-user? (Arguably the most important questions) | | Identify potential communities with which to communicate throughout the process. Design the interface for the anticipated end-users. Reach out to the anticipated end-users to identify needs, skills, etc. Make it easier to streamline the dissemination process. | Creating a product that has no clear end-users |
| End-users | What are the needs of my end-users? | Ask potential end-users. | Improve chances of actually meeting the needs of end-users. Improve broader impacts of your research. | Fail to meet the needs of the end-users. |
| End-users | What are the skills or prior knowledge of my end-users? | Ask end-users or always assume that end-users have the minimal amount of skills or prior knowledge, but don't "dumb it down". | Make your interface easier to use by stakeholders. Make the content more easily interpretable. Opportunity to create different options for end-users with varying skills, while keeping the barrier to entry low for users without certain skills. | Isolating end-users without necessary skills or knowledge may lead to non-adoption. |
| Life expectancy and sustainability | How long will this application be relevant to end-users? | | | |
| Life expectancy and sustainability | How will I ensure the application is available for that period of time? | | | |
| Life expectancy and sustainability | What are the costs (time, money, bytes) associated with hosting or storing for this period of time? | | | |
| Life expectancy and sustainability | Where will this application be located in 1 years time? 5? 10? | Consider storing the source code for your application within a trusted digital repository. Consider using persistent identifiers for released versions. Be certain you will always have access to the host location (e.g., website), and if there are associated fees consider whether you anticipate to always pay the hosting fees. | Releasing the initial version and each thereafter requires only a single location (URL, URI, DOI) to maintain and to share. | Changing the location (e.g., URL) of an application will be to the detriment of the usage of your application. If you publish the first release of this software inside a research journal article, but change the location some months or years down the road, it will render the intial reference useless. Will also add another layer to the findability of your application. |
| Interface outputs | What is the purpose of the interface? | | | |
| Interface outputs | How will information be exported from the interface? | | | |
| Communication | How will I communicate to potential end-users? | If you have identified the end-user types or individuals, then a communication plan becomes more constrained. Consider how effective communication through various outlets will be. Will a research article reach your intended audience? How about a Tweet? How about an email to certain individuals? | | |
| Communication | Will I provide an option for feedback on the interface? If so, how? | The easier it is for the end-user to provide feedback, the higher the probability is that the end-user will supply it. | | |
| Maintenance and updating | What are the costs associated with maintaining the source code and user interface? | | | |
3.4.2

Table 2 - a11y Resources

Table 2: a11y resources with general information, standards and evaluation, assessment tools, and communities of practice that are useful to explore when creating web applications or other user interfaces.
3.4.3

Table 3 - Web-application Development Frameworks

Table 3: List of web-application development frameworks. This table expands on the comes from the Supplement Information in Valle et al. 2019. + These tools are based on Graphical User Interfaces (GUI) and are stand-alone software. § These tools were not originally included in Valle 2019.